Newsletter: Legislative Recess is Here...and Free Tickets!
Dear Resident,

The 2016 summer recess for Council Period 21 officially starts tomorrow. Though there won't be any new legislation being introduced or hearings being held, I'll be working with my staff over the next two months to think about new opportunities to support residents through the policy-making process. I'll be sending out one newsletter a month during the summer recess, but I hope you will continue to keep me updated on what is happening in your neighborhood and share opportunities to connect with you.
WHAT'S UP WITH OUR LEGISLATIVE AGENDA
What Happened at Tuesday's Legislative Meeting: You may remember from reading my last newsletter that there was a highly-debated agenda planned for this Tuesday's legislative meeting. Over the last week, I heard from over 1,000 residents on issues coming up for a vote, and I wanted to share updates on what happened at the final legislative meeting before recess.
Jerry N. Clark Recognition and Progressing on Statehood: As many
of you know,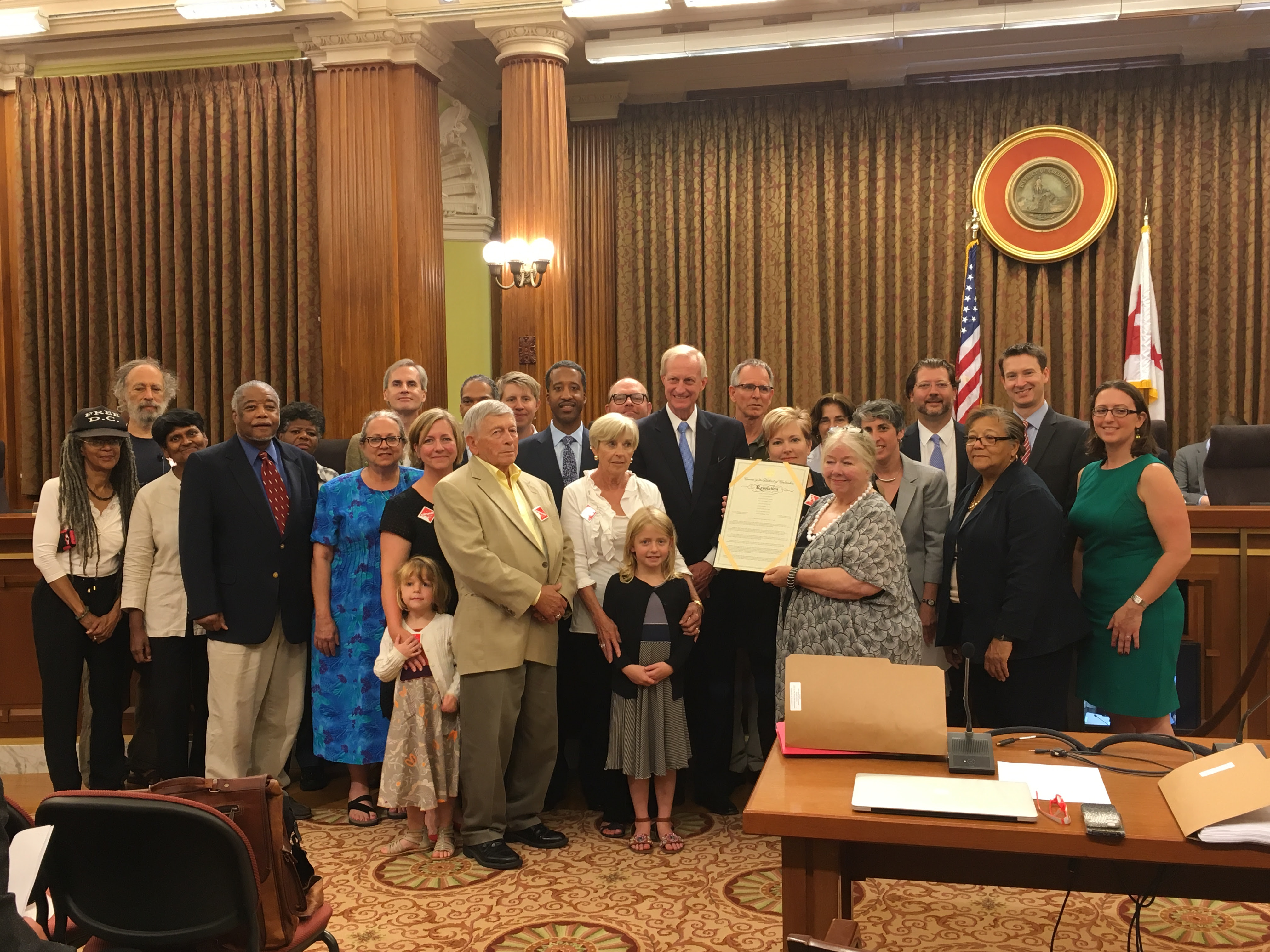 the District lost one of its most cherished statehood and LGBT activists in April. On Tuesday, I had the honor of commemorating Jerry Clark's life and legacy by presenting a ceremonial resolution to his family with my Council colleagues, his friends, and fellow activists. Jerry was truly an advocate and a gentleman, a leader who helped others find their voice and magnify it. You can read the resolution here and my remarks about his relentlessly mission-driven life here.

In the words of his sister, the best way to honor Jerry's memory now is to make D.C. the 51st state. The Council approved language that puts a statehood referendum on the November ballot, and, though I'm disappointed that the engagement process leading up to this point was not more inclusive, I look forward to more civic participation and constructive discussion as we continue working to make statehood a reality.
DCPS Food Services Contract:
You may have
read in the Post yesterday
that the Council approved two new food service vendors for DCPS next year. As I said before the
Education Committee's public roundtable on the contracts last week
, I was especially concerned about one of the vendors, SodexoMagic, providing the vast majority of school meals. They're a vendor that has a checkered past, recently agreeing to a
$20 million settlement
with New York State that is almost identical to Chartwells' here in the District. That's why I ultimately decided to
vote against the contract
.
Healthy school meals is an issue that affects all children, from every part of the city, but it most impacts the health and well-being of our low-income children. These meals are often their best meals of the day, and for some students, they can be the only real meal they get. They deserve better, if we are serious about helping them learn, build healthy lives, and reach their full potential.
While I believe DCPS needs to make school food a higher priority, I am optimistic about a few things. First, I'm hopeful that the Council will be getting more performance information over the coming months, so we can better understand how we can strengthen our food services program in the future. Additionally, at the hearing DCPS mentioned an option that would allow them to pilot how an in-school operation of food production might work in a small grouping of schools. Other school systems have found this to be both a healthy and financially advantageous option.

Strengthening Protections for Cyclists and Pedestrians: Lastly, I joined all of my Council colleagues in voting to pass a bill that will make our insurance system more just for our most vulnerable road users. I thank Ward 5 Councilmember Kenyan McDuffie and Ward 3 Councilmember Mary Cheh for their leadership efforts and, after the second vote, hope we can join 46 other states who have abandoned the archaic legal standard of contributory negligence. We shouldn't be preventing court access for the many D.C. residents who are injured every year in pedestrian or bicycling accidents, yet currently unable to receive just compensation for injuries that were mostly the fault of someone else.
WHAT'S UP WITH PAID FAMILY LEAVE
As I said in my response statement to Chairman Mendelson's decision to postpone discussion on paid leave until after the legislative recess, the Universal Paid Leave Act is a complex bill with a lot of moving parts. I'm invested in making sure we pass the best bill possible and will be working with my staff on the legislation over the summer. I look forward to passing a comprehensive bill in the fall, but while we're working on fine-tuning, I hope you'll help us continue to advocate over the summer!
You can join Jews United for Justice and the D.C. Paid Family Leave Coalition to help educate residents near you by taking a look at their canvassing dates in July and August and signing up here.
IN THE COMMUNITY
Speaking of summer activities, Team Silverman will be participating in and hosting a number of events across the city
during recess. My office had a great time celebrating Independence Day at the Barracks Row and Palisades Parades, and I hope we'll see more residents at some of the upcoming activities below!
YWCA-NCA EmpowerSTEAM Summer Academy for Girls: Scholarships are now available for the EmpowerSTEAM Summer Academy for middle school girls from July 18 – 29. For more information, contact Shelby Love or Cheryl Johnson at (202) 626-0700 or via email at

[email protected]

or

[email protected]

. You can see a flier here.
Free Tickets for the Nationals: My office will host our Day at Nats Park on Sunday, July 24 and have free tickets available for residents. The Nationals will play the San Diego Padres starting at

1:35 p.m.

Email Ashley Fox in my office at

[email protected]

with requests (limit of four).
Ward Day at National Building Museum: My office will join Ward 3 Councilmember Mary Cheh and Ward 4 Councilmember Brandon Todd on Tuesday, August 2 for our Ward Day at the ICEBERGS exhibit. Admission will be free from

9:00 – 11:00 a.m.

for residents.
Free Tickets for Shakespeare in the Park: We still have tickets for The Tempest happening on Saturday, August 27 at 2:00 p.m. in Sidney Harman Hall (610 F Street NW). Email SYEP Intern Ameir Jeffries at

[email protected]

with requests.
Back-to-School Drive for D.C. General: My office is collaborating with a number of nonprofit and District government partners again to host a Back-to-School Kickoff for students at D.C. General in August. Please contact the Department of Human Services at (202) 299-5546 for more information on how to donate supplies for our giveaway by August 17.
Remember these tips to stay cool in the summer heat, and I look forward to seeing many of you over the coming months!
Elissa.